The One Dimensional Game That Is The Heart Of All New Parties
Light Pong is a one-dimensional game that features multiple fun-playing games with a different twist that you have seen and played before. Switch on the button and fill the room with joy and laughter with exciting games. 
It's the most epic addition to your cool party tricks.
Different Games That Will Pump Adrenaline Testing Your Wits And Reaction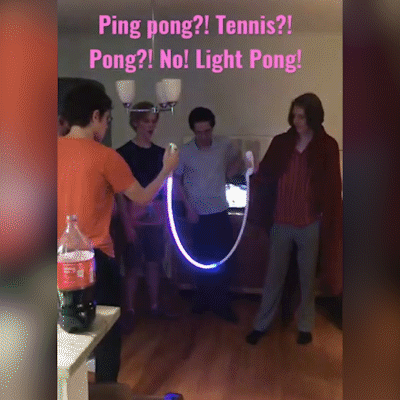 What starts out a really slow and fun game, eventually evolves into a much faster gameplay testing all your wits and making good use of your fast-reacting nerves. 
Embrace yourself for the most exciting and thrilling games with your friends. That will get the emotions high and the crowd excited.
Transform Boring Gathering Into Cheering Crowd
With Light Pong, you can play multiple games that will grab anyone's attention. There are 6 different modes for games that will entertain everyone.
It's A One-D Console
Light Pong is a One-D Gaming Console with 6 different gaming modes. You can choose between each mode and enjoy yourself with friends.
Ping Pong